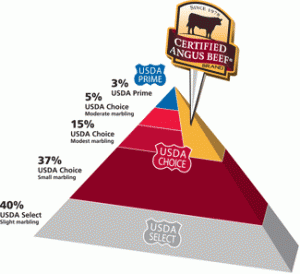 Brisket is a tough meat to master for many competition and backyard cooks. You may or may not have noticed that?brisket?can have different grades from the USDA.? Below are the grades you may run into and a quick course in the differences.
Select Grade: This is the second lowest grade of brisket I have seen available. There are lower grades such as standard, cutter, etc.? These cuts contain the least amount of fat and will be firmer. Do not use these in competitions if you can avoid it. These are usually seen in grocery stores.
Choice Grade: This is the most common grade you will see and the most used grade in competition. Sam?s, Costco, and many butchers will carry these.? They will have more?marbling than select and standard.? It is very important?use the basic factors?such as?size, thickness, marbling and feel to find the?correct choice brisket. They all may be labeled Choice, but some are clearly better.
Prime:? This is actually a choice brisket that has received the highest mark of the choice cuts. Typically they will have a little more marbling and will have a softer feel to them.? If you keep your eyes peeled, they are often mixed in with the Choice grades? at Sam?s and Costco. Look fat side of the packaging and you will see a USDA Prime stamp. You can talk to the butcher and the above resources and they can order prime for you.
Wagyu– Referred to as the American Kobe beef.? The USDA does not grade Wagyu.? It?s actually a different breed of cow originating from Japan and uses a different grading system. The Kobe breed of cattle used in these cuts produce a well-marbled brisket. The biggest deterrent is price. They can be up to 5x the price of the above briskets, and often you have to pay a hefty shipping cost as they need to ship refrigerated. We cooked a few of these and they produce a slightly different taste and seem to cook faster. If you can cook them correctly, they are just fine. However, reports of low scores using Wagyu are common, due to unfamiliarity of the judges and the difficulty to cook.
CAB Certified Briskets:? Beef branded as Certified Angus Beef? has a higher amount of marbling and an exceptionally tender, juicy flavor. Only some USDA Prime beef and top grades of USDA Choice beef are sold under this brand name.
Want to know what type Hot Grill on Grill Action won 2 state titles with in 2011 as well as the seasonings and methods used?? Check out our book: www.bbqrevolution.com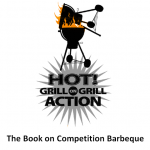 Source http://en.wikipedia.org/wiki/Beef