The creators of this website are "Hot Grill on Grill Action" – an Omaha, NE based competition BBQ team and authors of 'The Book on Competition BBQ'. We've been competing professionally since 2006 and created this site to document our experiences and provide an outlet for our services.
Take a minute to meet and get to know our team!  We would love to help you in any way!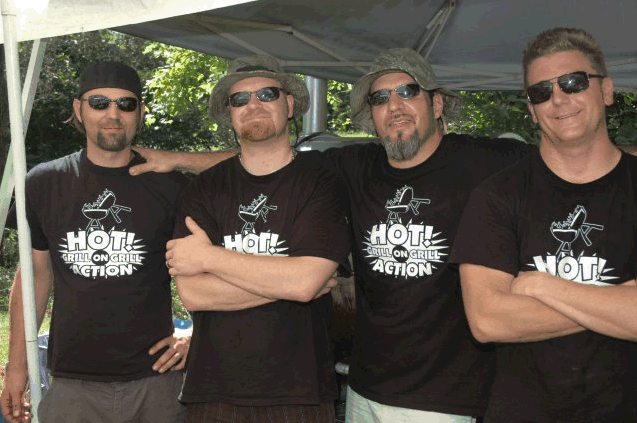 Ryan Amys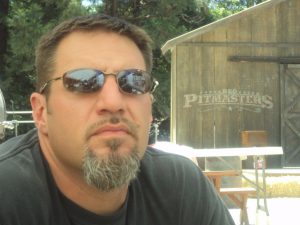 Education: Graduate of University of Nebraska Omaha – Bachelors in Construction Engineering Technology; Graduate of Southeast Community College – Associates in Surveying and Computer Aided Drafting
Hobbies: Welding/fabrication, motorcycles, spending time with my wife and kids
Born and raised in Omaha, NE.  Spent several years traveling which forced me to start cooking BBQ like I'd get when my father cooked when I lived in Omaha.  My brother and I are generation competition cooks.  My father and brother have been competing for 13 years together and got serious with competitions while I was away.  When I came back I was invited to the team but Matt and I wanted to go ahead and start our own.  This created a minor controversy between teams at the beginning which has turned into a great team/team relationship.
I have spent the last 10 years as a Construction Project Manager/Engineer.  I have worked on two Department of Energy nuclear waste remediation projects.  I have just ended my traveling by transitioning into a Director's role in Industrial Business Development.
I feel that our team represents the younger generation of competition cooks.  These "old guys" can't stand some of us "youngsters" beating them.  Especially after we've managed to keep the party rolling through all but 2-3 hours of the morning.  We have a fine balance of skills that support each other almost flawlessly and at the same time a couple of us butt heads because we're stubborn and "always right."
Hot Grill on Grill Action – Loved or Hated but NEVER ignored!
Matt Frampton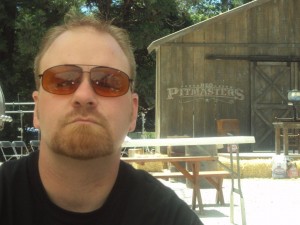 Education: Bachelor's Degree in E-Commerce,  MBA in Finance & Marketing
Born, raised and have lived in Omaha, NE my entire life.  Was fortunate enough to live next door to 2 generations of BBQ cooks (Ryan and Pops) over these years and have ridden the coattails of them in an effort to help produce the most unique and successful  BBQ team of all time.  Aside from BBQ, my lifelong passion has been music and can play just about any instrument known to man – side for my voice.
Professionally, I'm a consultant in banking and do all sorts of stuff.
Every year that goes by, it becomes increasingly obvious that we do these BBQ contests very differently than any team around.  Our relentless effort to have a complete blast and still succeed is very unique and makes it extremely fun to be around – whether one is a member of our team or not.   We have gone to great lengths, poured countless time and considerable money to further our ability to entertain AND win big.
Hot Grill on Grill Action – The hotter the grill, the quicker you're done!
Logan Hendrickson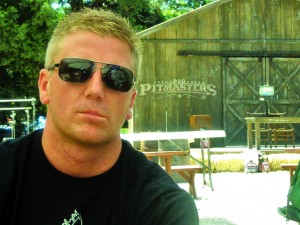 Education: Bachelor's Degree in Marketing; MBA in Finance & Marketing
Professionally, I am a Sales Manager for a national medical staffing company. We are partnered with the top healthcare facilities throughout the Nation. My region includes many clients throughout the state of California . Ultimately, we are delivering top medical professionals to ensure that our clients can provide their communities with best level of patient care.
BBQ Speak:   Years ago,  I was fortunate enough to be asked to join the team after entertaining the idea of starting my own team. Seeing the fun and quality of the product Matt and Ryan were turning out, I wanted to be part of the BBQ competitions. With Ryan and Matt as mentors, I quickly learned the dos, don'ts and had access to not only the best BBQ pitmasters that I knew, but also the equipment.
Our team has really developed a niche over the last 3 years. We are known both as gracious entertainers and equally ferocious competitors.
Hot Grill on Grill Action – MADE for entertainment
Chris Yelick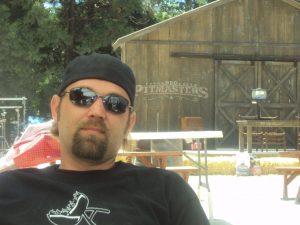 Education:Graduate of Devry University –Bachelors in Business Administration & IT Project Management
Hobbies:  Spending time with my wife & daughters, fishing, cooking and tinkering with just about anything
Born and raised in Omaha Nebraska, in my early 20s the swimming pool industry drove me to Kansas City where barbecue became an immediate obsession.  From humble beginnings smoking ribs on a Weber grill with Amysto running 100s of pounds of meat for massive parties, I've done it all in the world of barbecue in just a few short years.  I was asked to join the team years ago for my ability to stay up late and keep the party rolling.
Professionally, I manage a 1,500 agent virtual call center for a cable shopping network.
We don't have a wall full of trophies or the most expensive rig on the market, but we will always provide a memorable experience and a possible hangover.