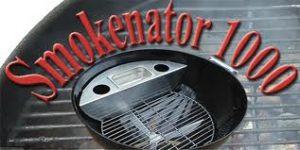 As everybody knows, we swear by the Weber Kettle.? So, when we see something out there that may make it better we want to try it.? Ever skeptical in things that can make a perfect rig better we?felt obligated to?put it to the test.? If you started out like most of us you've done your?time standing by the kettle feeding it a few briquettes every hour to run for long periods of time.? According to the claims on the website the Smokenator 1000 can run?for 6 hours if ran per the instructions.
The design of the unit is quite simple and in fact, we've tried to mimmick it in round about ways by using foil pans or foil to block the direct heat from the charcoal.? This unit is simplicity at its finest and can be installed and removed very easily.? The one thing that excited me most was the water pan because we are currently in discussions about adding water in our competition rig.? I'd ran water in the past on my WSM and I don't the specific reason why I quit doing so.? Now I'm pretty sure I'll be running water during pre-season practices on our big cooker to see if it benefits the moisture and texture of the ribs as I feel it did with the Smokenator.
As you can see below, theres not much to it.? The picture is self explanatory with maybe an exception about? the little rod that comes with the kit.? Don't lose it.? It's a stir stick for the coals?that I?misplaced somewhere during the cook?only for it?to magically appear immediately upon completion of the run.? Good thing I've got a stick or two of welding rod in the garage.
?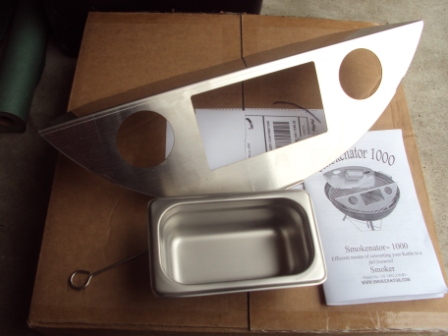 ?As previously mentioned what caught my eye was the claims of a?6 hour cook time on one load of kingsford.? The first time?I ran it?I didn't quite get 6 hours out of it, perhaps?it was because it was?just under?60 degrees out and raining through the entire cook.? Hey, why try these things out when it's beautiful outside?? We're a competition team, we like to know how things run in mediocre conditions.? However, I did get 4.5 hours out of it which is darn good!? Further tests had gotten me to the 6 hour mark they had claimed on the website.? Pretty impressive!
Installation is easy if your grates are in good shape, if they're well used like ours you'll need to take the charcoal grate out and get the concaved shape out of it.? Don't just flip it over so it's convex, the smokenator needs that bottom grate to be flat.? I simply took mine out, laid in on the ground and stepped on it.? There are a couple of tabs that rest against one of the bars on the grate and if it's not flat it will not fit properly.? This is no discredit to the smokenator, just a helpful tip.
I had decided to cook my umpteenmillionth rack of ribs this year as the test.? I used the 3-2-1 method as usual and a variation of my competition recipe.? I decided not to sauce the ribs after I removed them from the foil so?I could truly tell if the meat was any more moist than usual.? We've never run any type of additional moisture with our ribs in contests.? And even in my bullet I put sand in the water pan instead of water when practicing new rib?recipes.? As you can see below at the very end of the cook the ribs were still moist and if you look closely, you'll see there's no water in the water pan at this point.? Which brings up a quick topic for discussion.? You will need to keep an eye on the water pan if you're really looking to add moisture.? The water will boil and evaporate quickly.??Maybe next time I'll put some apple juice in the pan instead…
The ribs turned out to be very moist with a great smoke flavor.?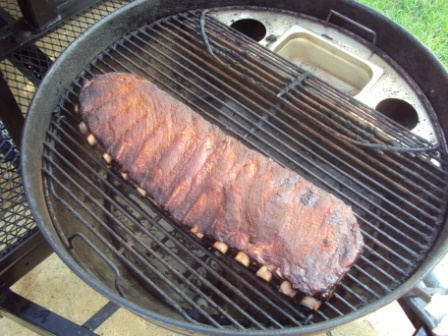 Overall,?I would?recommend this unit if you are a Weber kettle owner.? It would be a perfect addition to those of you that own kettles and have never slow cooked on them.? I look forward to using it to cook a brisket or other large cut of meat.??If you're into smoking turkeys take a look at their website, they've got a great looking?method for doing so.? I definitely look forward to trying it this Thanksgiving. Perhaps it will bring me back to my roots a bit (without having to babysit the kettle so much).?
There is a ton of of additional information and photos at www.smokenator.com.??