I?ve been in the market for a pellet cooker from the moment I experienced the ease of use and quality of product turned out through Ryan?s own custom built ?Timber Turd Burner?. While his is certainly unique and has some killer attributes you won?t find in any cooker on the face of this planet, I knew right then that I had to have one of my own. So, I embarked on a research project for which unit to choose.
I looked at several, RecTec, Country Smokers, Blazin?, Fast Eddy?s, Yoder, Traeger and Green Mountain. Before the search even began, I knew that my budget was going to have to be balanced with the quality, since the budget was limited. This said, there were a few features I wasn?t willing to sacrifice, regardless of the budget.
Those features are:
Digital Temperature Control
Cooking space (wanted over 500sq ?)
A larger capacity hopper
Excellent customer service track record
It didn?t take me long to zero in on a few makers and models and ultimately, I chose Green Mountain Grill?s Jim Bowie model. Not only did they have the features and functionality I was looking for, after spreading the word to my BBQ friends (all across the U.S.), I quickly discovered how incredible the customer service was and always had been at GMG. Some very trusted sources told me that they go above and beyond and now that I've been working with them for a few months, I couldn't agree more. Incredible people, incredible product.
Here are the features listed right off www.greenmountaingrill.com and what sold me:
The Jim Bowie model comes with a digital control, a meat probe, a peaked lid for stand-up chicken/ large fowl/ rib racks, a convenience tray with utensil hooks and hard rubber tires. Also included is Sense-Mate, a thermal sensor which constantly monitors the ambient temperature. When it gets cold outside, it kicks the grill into Turbo mode so you don?t have to wait long for the grill to heat up! You?ll also get a venturi-style firebox for cyclone combustion, front casters, a positive pressure hopper fan to prevent burn-back, a dome thermometer and ?fan only? mode with automatic grill shut-off to blow ash out of the firebox after you finish grilling. The stainless steel grate measures 37.5? X 16? (600 sq. in.) and the inside clearance is 13.5?. It weighs 183 pounds.
A few features I hadn?t thought of as requirements became so after I read the details:
Meat probe
Side / convenience tray
Automatic grill shut-off
Remote option!
Here?s a snapshot on how it works, right from the website: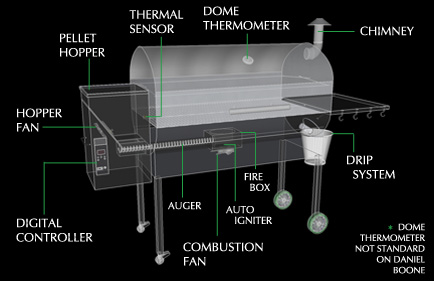 When I contacted GMG about getting a cooker, I was quickly referred to a local retailer, Frank Stoysich Meat?s, in Omaha, NE @ 5170 Q Street ? who happens to also make the best sausage in town! Everyone I worked with through the process was responsive, informative, helpful and most importantly attentive and prompt. I can't provide a single instance of poor service to date.
I headed down to the store after knowing it was in stock and they loaded it up for me and I was on my way!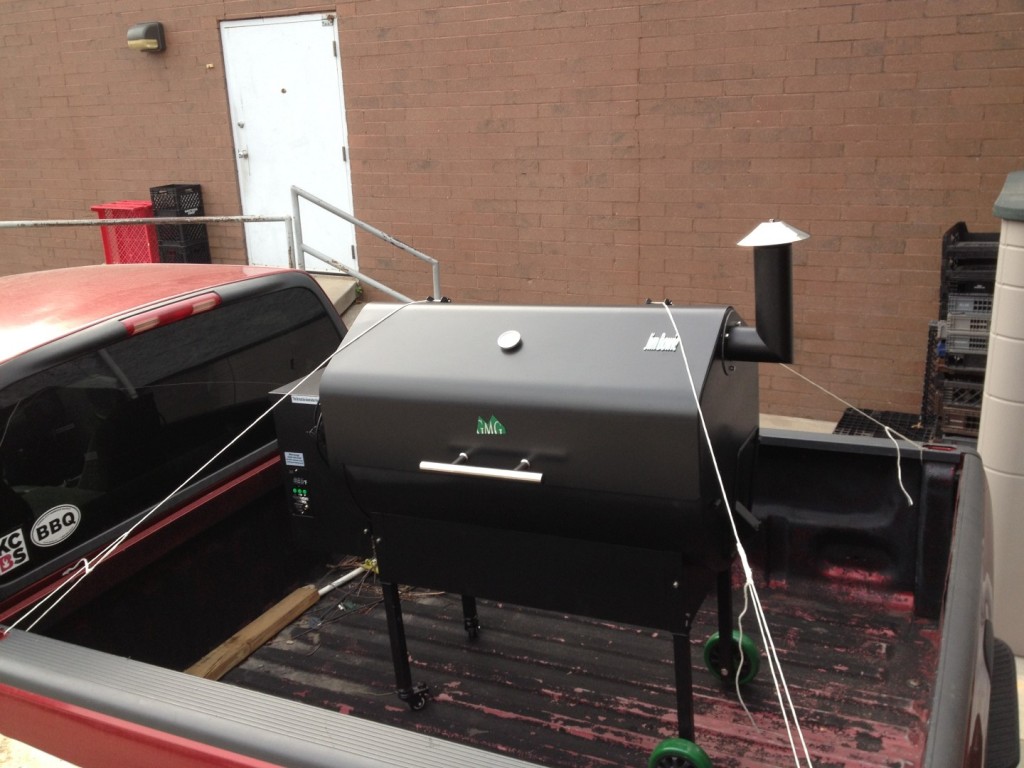 Got it home and unloaded it and of course had to fire it up!
A few things about firing it up that are important:
You need to press one of the arrow buttons to initiate the startup sequence.
Once this happens, the display will cycle through a series of numbers, 0 ? 3. DO NOT TOUCH ANYTHING DURING THIS TIME!
Once that has completed, the default target temperature will engage and the current temp will show. In my case the default target was 150.
Using the arrows, set it to the desired temp and let it run!
On a 50 degree day, I set the temp to 225 and it was there within 10 minutes. It held there, within 5 degrees (and in most cases within 3) until I shut it off 3 hours later.
There is a blinking light that will tell you when the temperature is stable. GMG doesn't recommend putting any food on the cooker until this light starts blinking. From my tests, it appears that once the temp has settled in for about 5 minutes straight, it starts to blink. In colder temps, it is harder to acheive this without a thermal blanket…but it still runs very well.
Here are some pics of the unit and features after getting it out of my truck and firing it up:
The main unit: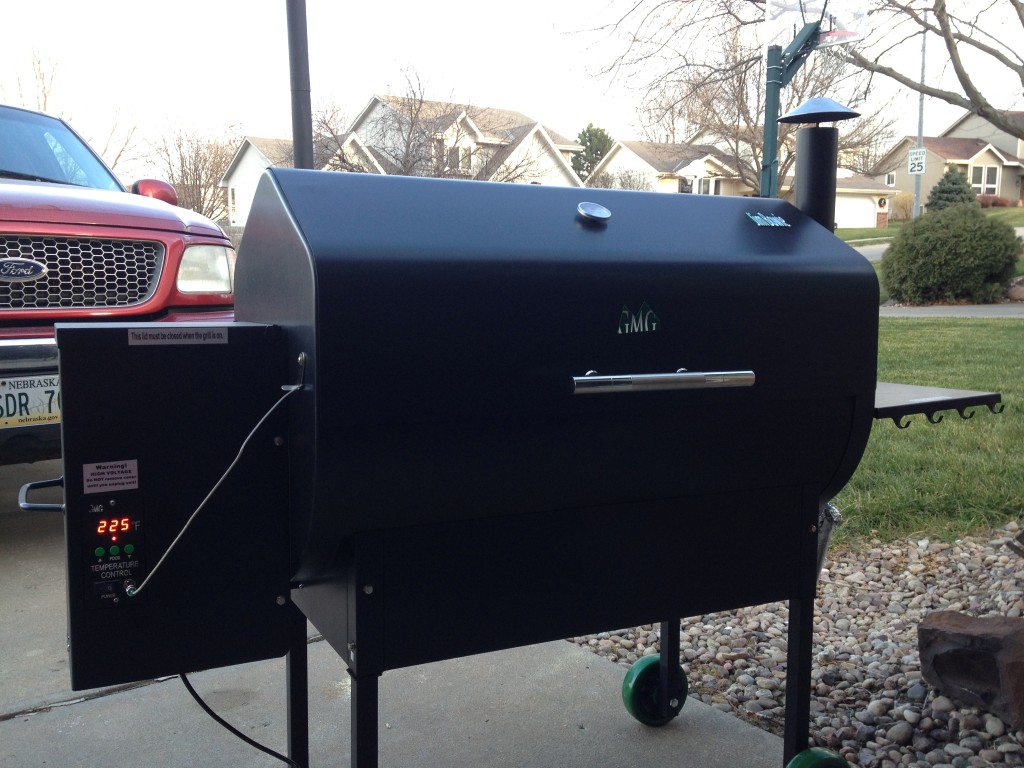 A side view which shows the hopper, digital readout and the food probe, which goes through a handy hole already in place: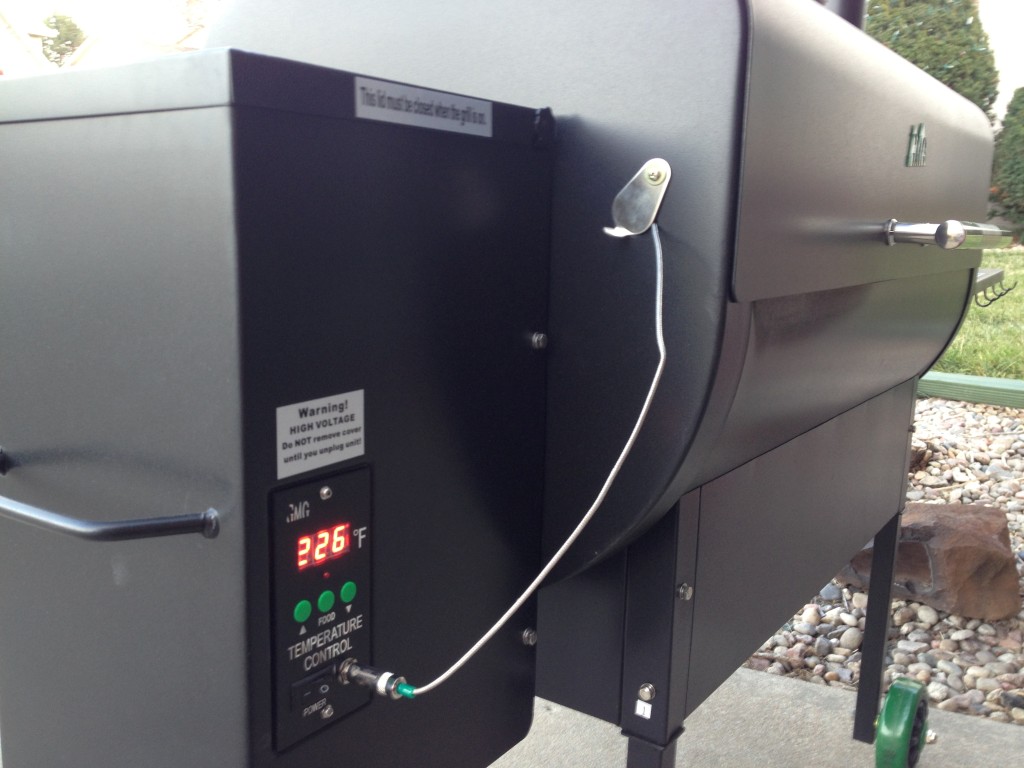 The top view of the unit: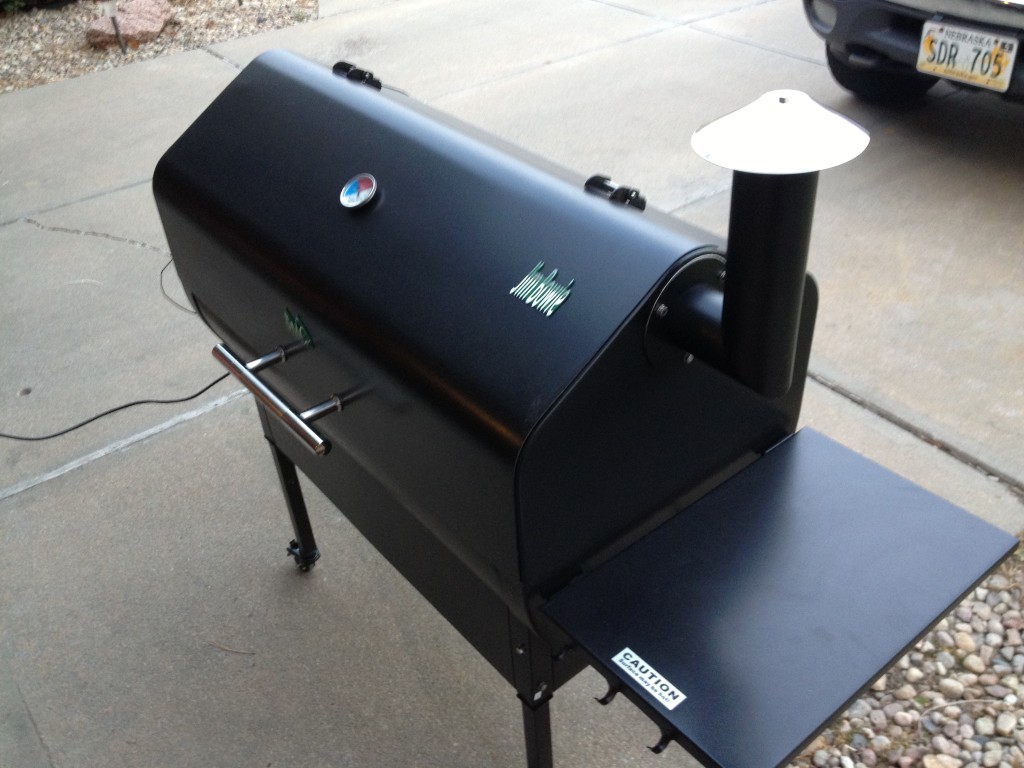 Here?s a view of the analog thermo, which you can see is right in tune with the digital thermo: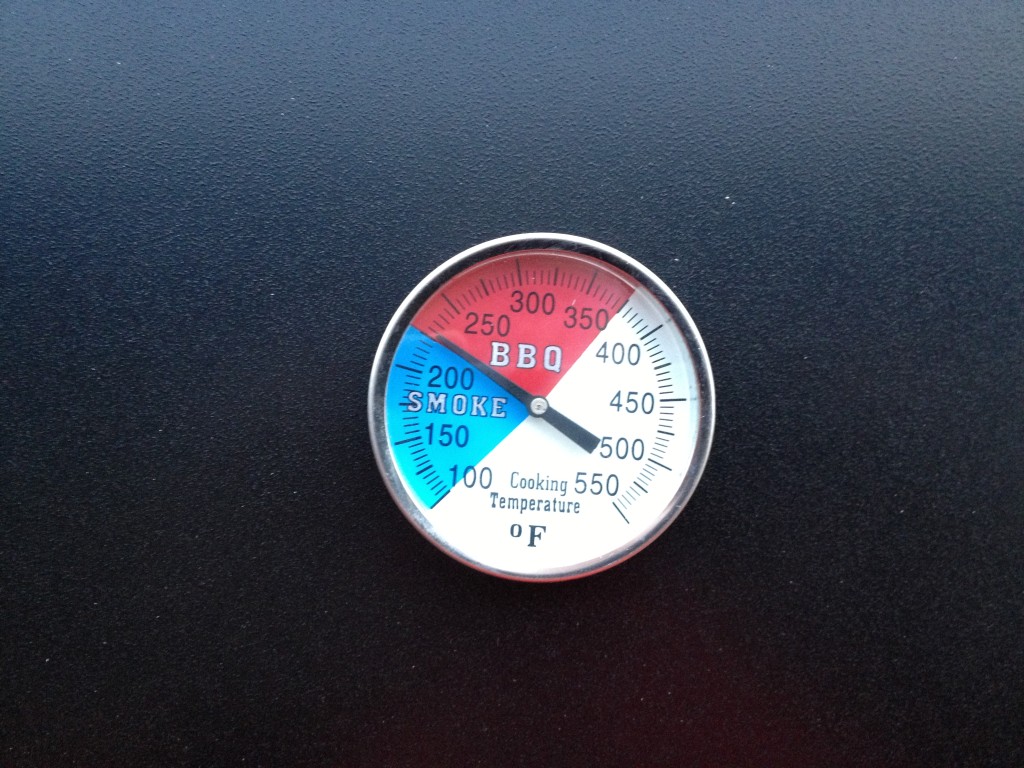 Operation of this cooker is ridiculously simple, as with most any pellet cooker with all these options. The key to it for me is, a thermostat with digital dial in. In the case of the GMG, you can set the temp to any setting between 150 and 500 degrees, in 5 degree increments. This means you can essentially dial in to exactly what you want and it will hold true as long as it?s set there. This is better than many indoor home ovens can boast!
You can cook jerky at 150 degrees, or you can sear and grill steaks or other items at near gas grill temps of 500 degrees. Of course, the bread and butter of a cooker like this is the ability to smoke and in those sweet spot smoke ranges, this cooker runs perfectly.
I cook chicken for our competition BBQ team and like to have a VERY consistent 275 degree cook over the course of time it takes to cook what I do for our turn ins. This thing doesn?t budge from what I need. I?ve run a full blown contest test on it 6 times, all went perfect. So far this year (as of Feb 11, 2013), we have had one contest and we took 3rd in Chicken out of 25. The thing just plain cooks well and meat is incredibly moist coming off of it. The meat is almost unbelievably moist at first especially if you are used to normal charcoal and wood only cookers. The meat looks ?wet?, but in a good way.
Here are some pics of food I?ve cooked on it so far
Sliced brisket flat (cooked this without the point and look how moist!)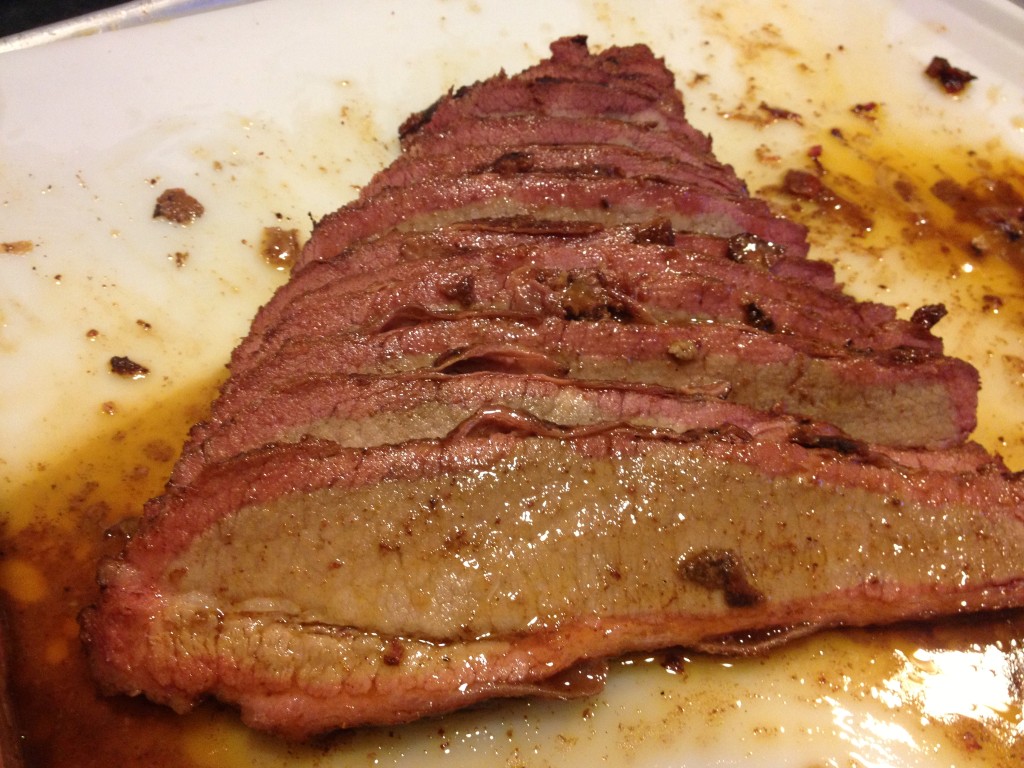 Sliced homemade sausage: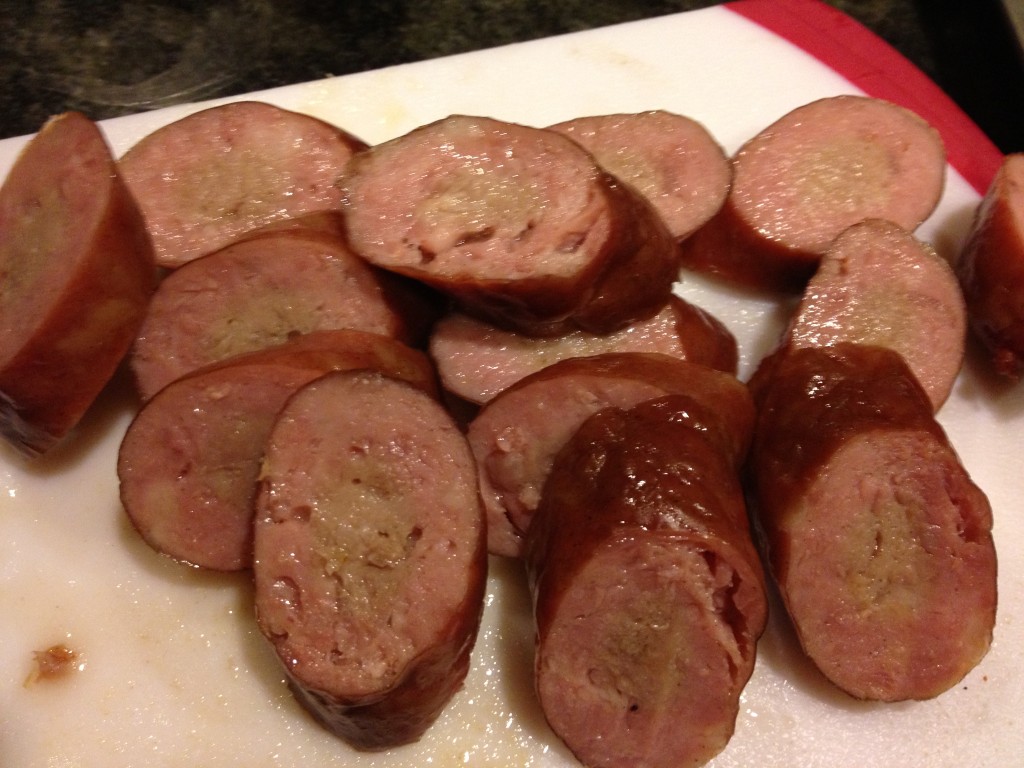 Sauced and sliced pork loin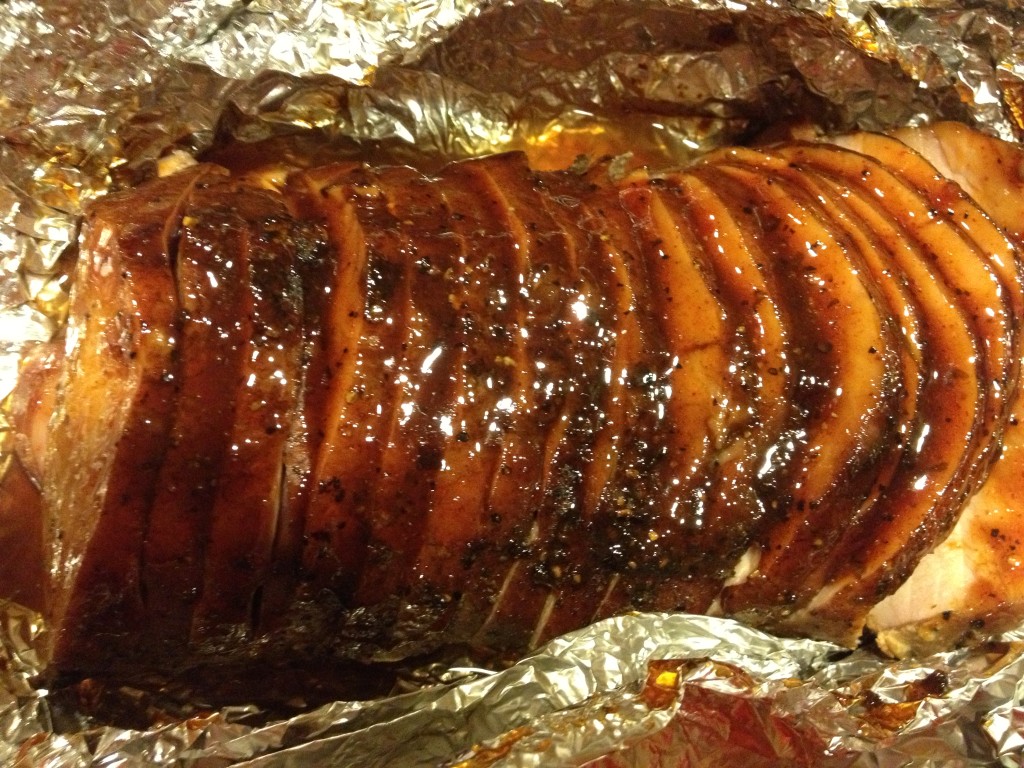 Sliced chicken breasts: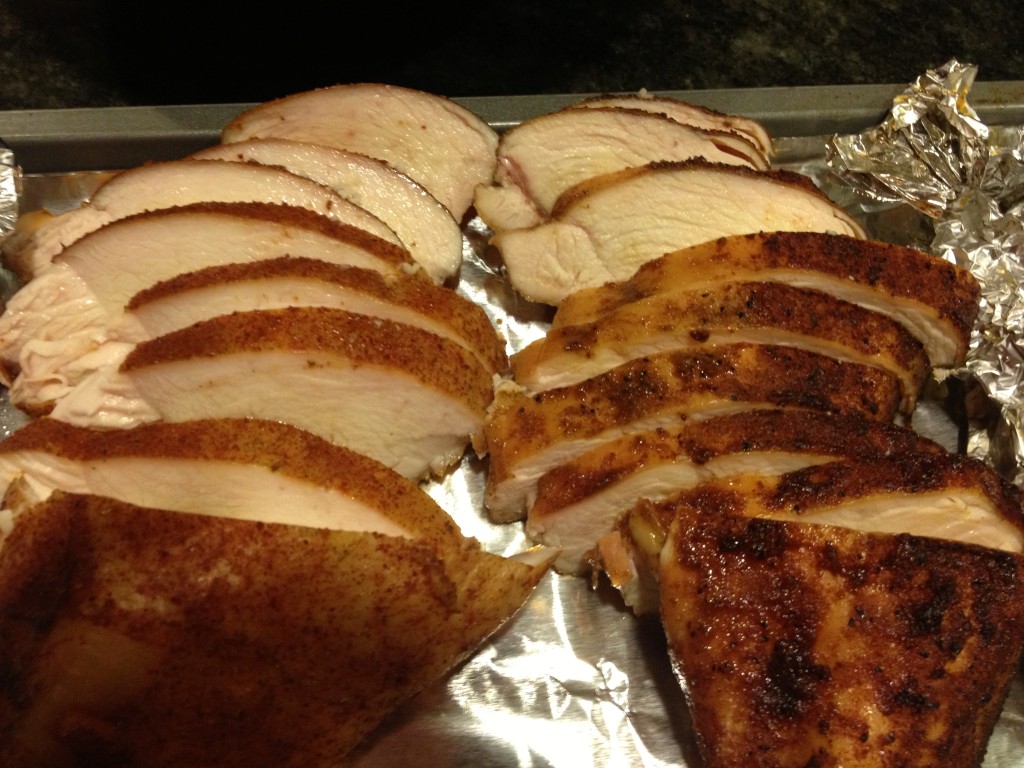 Chicken thighs: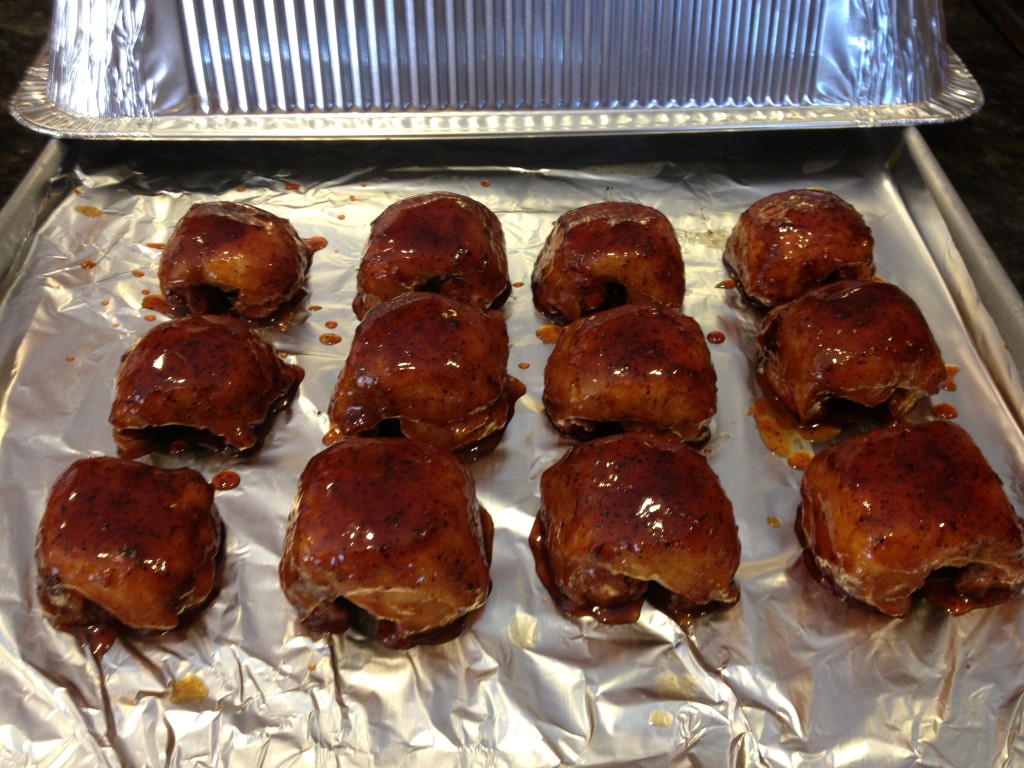 A spread of food: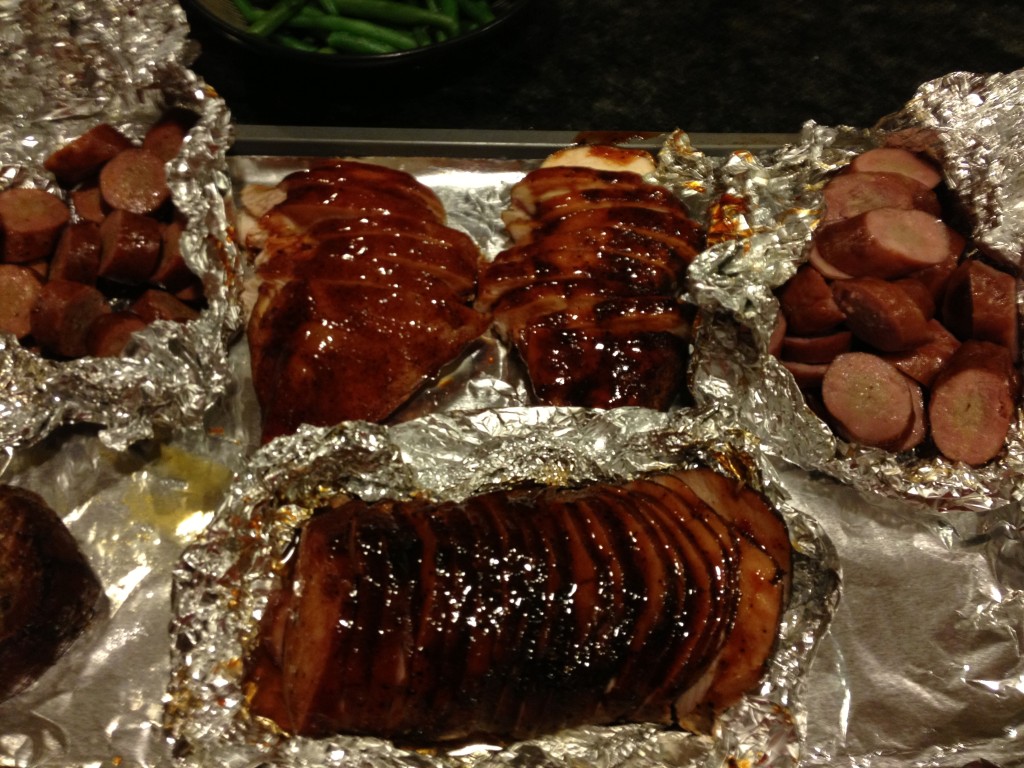 One last item I?ll mention as it?s more of a luxury than a must have, but BOY is it handy.
The cooker / control comes with a remote option, which you can purchase separately. This was a must have for us at HGOGA, because we are gadget geeks. Call it nerd BBQ if you will. This remote will work on the opposite side of my two story house, when the cooker is out back, with no issue at all. It says it?ll work up to 100? away and I think it?s more than this. Works like a champ from far distances.
I purchased this unit as an add on and it was simple. A few screws to take out and then just swapped out the main controller. The good part about this is: Now if I get in a pinch with a faulty controller (hope not, but it is electronic after all), I now have a backup unit in a pinch for a contest away from home.
Here were the parts that came with the remote option: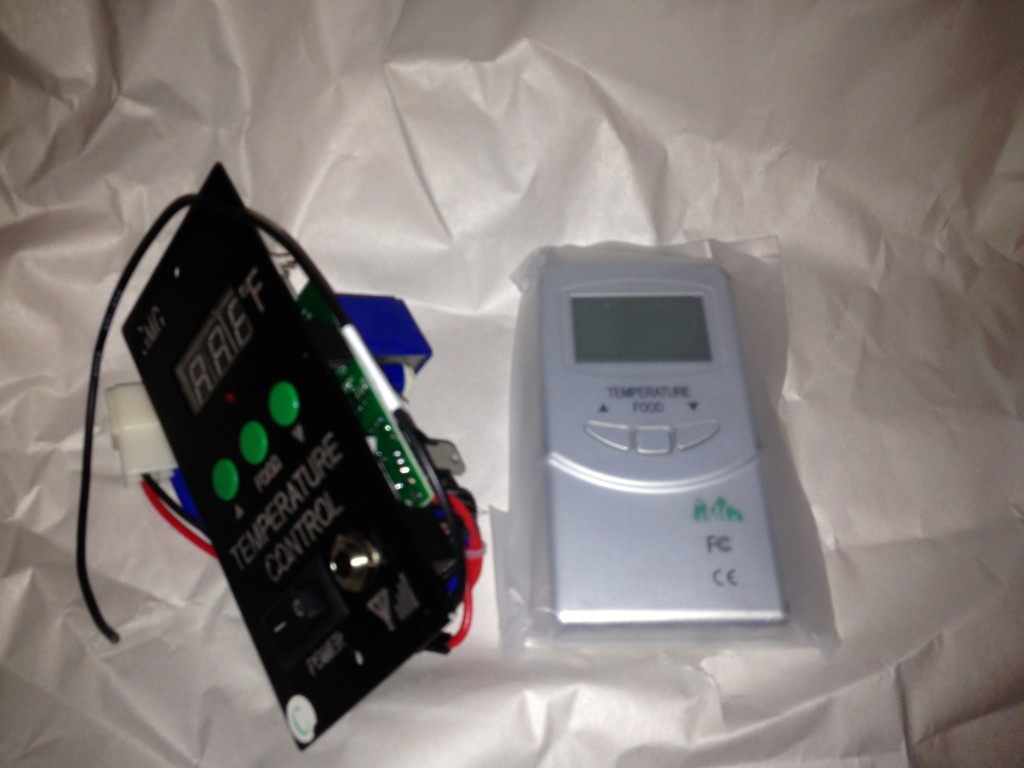 All in all, I can?t speak much more highly of this cooker or GMG. It does exactly what they say it does, which is cooks at low and high temps and everywhere in between and holds a consistent temp. The digital thermostat makes operation unbelievably simple and the construction is much better than some of the competition (i.e. Traeger). The product it turns out tastes amazing, holds incredible moisture and has great color. This is coming from a die hard, highly competitive BBQ cook here.
Those who know Hot Grill on Grill Action know we love to have fun, but also love to compete at the highest level. We are entrusting GMG with our contest chicken this year and are already discussing purchasing more cookers from them for brisket and perhaps beyond.
In the end, we?d recommend it. Great value and a darn good price. Pile that on top of unbelieveable customer service and well…..you simply cannot go wrong.
If you have any questions at all about running this cooker, please reach out to us. We'd be happy to answer your questions. info@bbqrevolution.com
– Matt Frampton | Hot Grill on Grill Action BBQ Team & BBQ Revolution