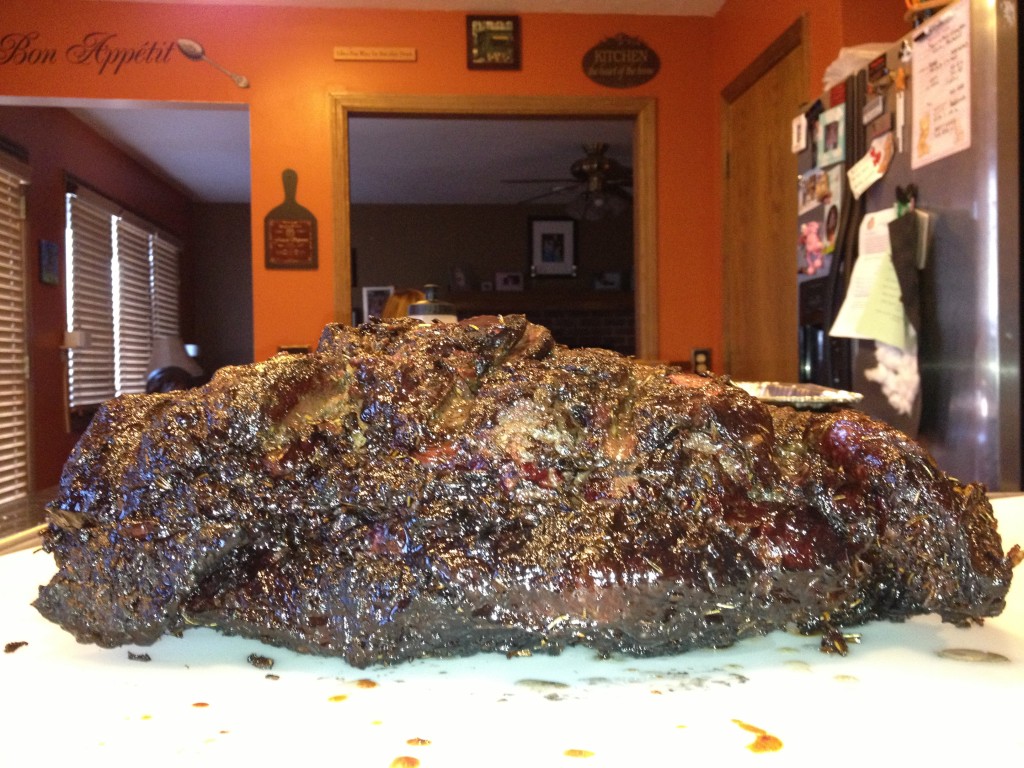 Our team was lucky enough to come across a case of Waygu Shoulder Clods and while we all toyed with the idea of parting out, grilling some, smoking some, grinding some, etc – I decided to just smoke the whole darn thing for my daughter's 6th birthday party. She loves brisket and loves cooking with me, so it only made sense!
The beef shoulder clod or sometimes called a clod heart roast or shoulder center roasts is one of the cheapest cuts of beef and is taken from the shoulder region of the cattle. This is why it is sometimes called chuck or shoulder clod. Beef clod consists of a large muscle system and some fat that covers the muscles. It is very similar in nature to a pork butt, in that it has several different cuts and even it's own 'money muscle'.
This cut consists of the top blade, the shoulder tender (money muscle), stew meat, and more. Here is a great video on how to merchandise an entire clod http://www.youtube.com/watch?v=UvfTV7cunhI
For me, smoking the entire thing just seemed like a 'natural' challenge….and so I did!
My ingredients were amazingly simple:
2 packages of Lipton's Beef Onion Soup Mix
1 bottle of Johnny's French Dip Au Jus Concentrate
Here is the whole clod in all it's glory!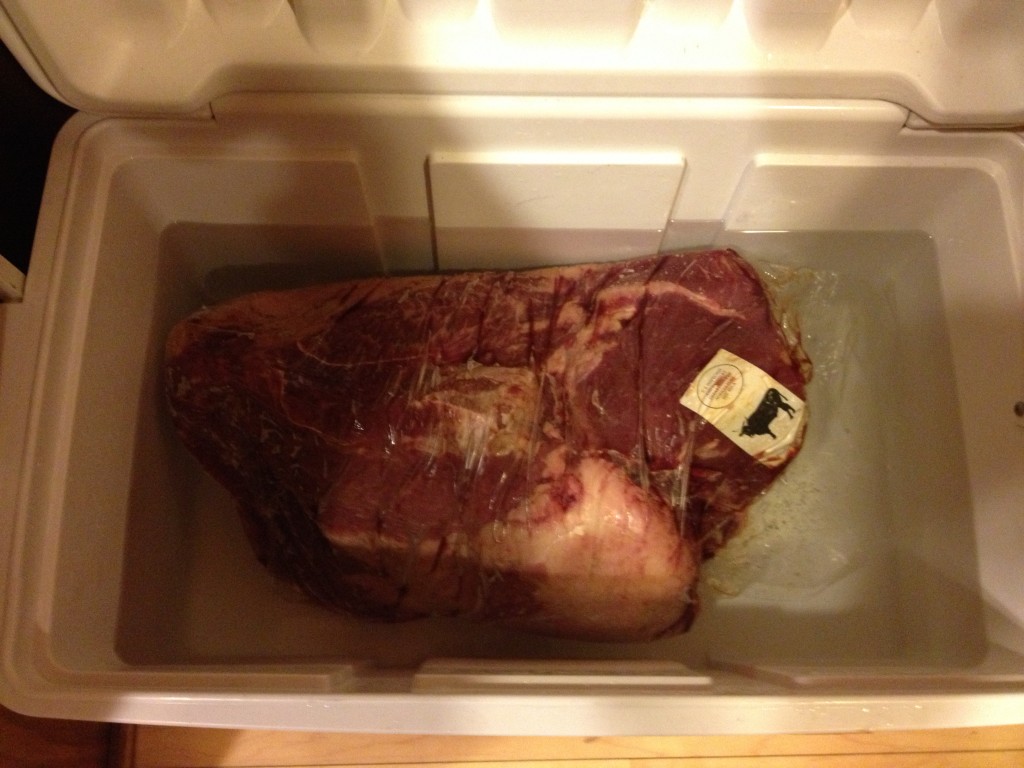 Next, I took the clod out and trimmed off as much excess fat as I could: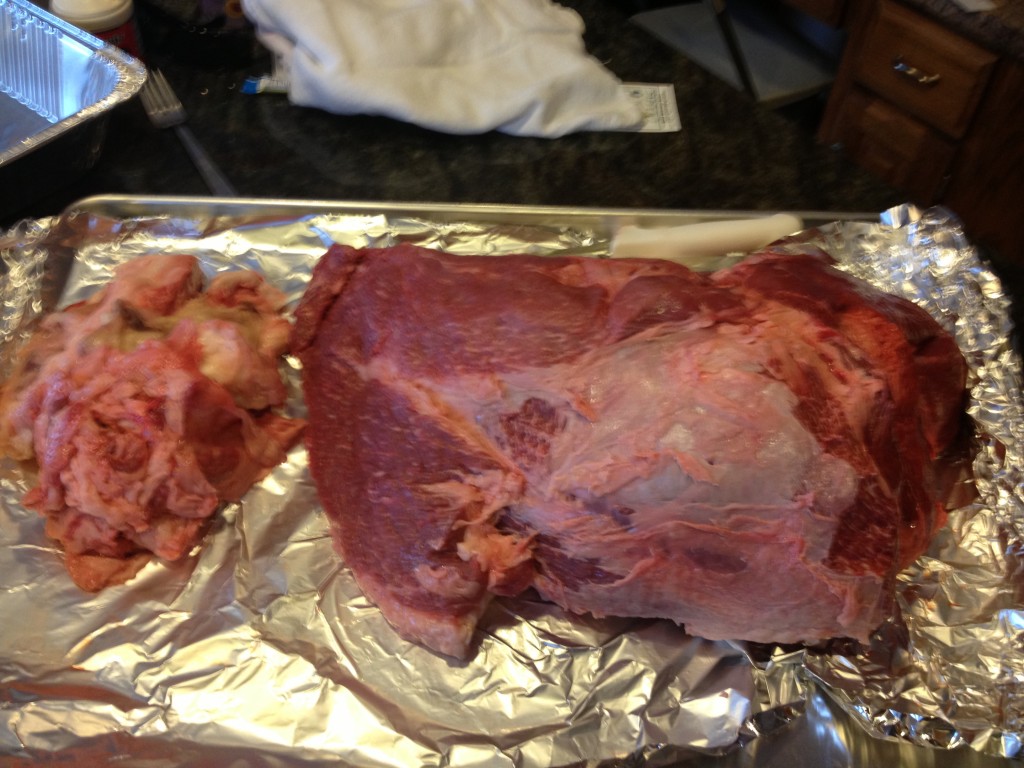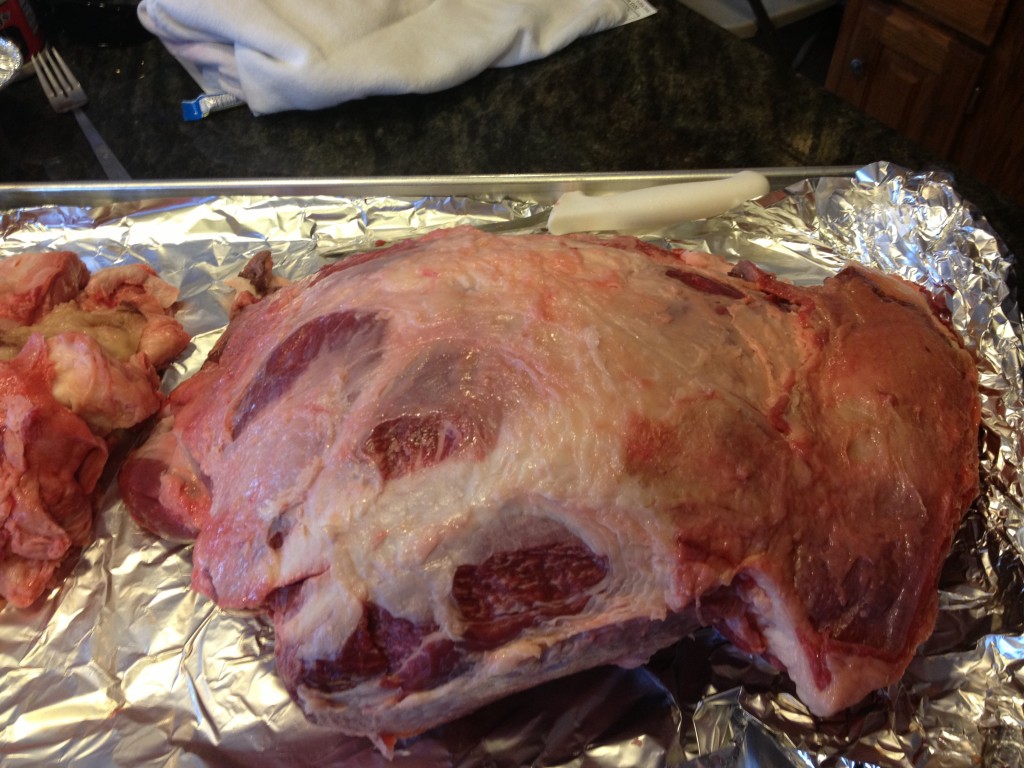 Once I got it all trimmed, I let it rest in a pan for about 2 hours to start to come up to room temp. While I was waiting for this, I prepped the seasoning and injection.
To make the seasoning able to penetrate better, I crushed it up a bit with a fork in a bowl, like so:
The next step was to prepare the injection according to the instructions on the Johnny's bottle. I made 3 cups of injection and loaded the shoulder clod with it, while in the pan.
Once the injecting was complete, it was time to load it up with the soup mix. Apply it liberally and rub it in. The injection will have spilled out in spots and help as a good binder. Be as generous as you wish here. You can't really over season a piece of meat this large: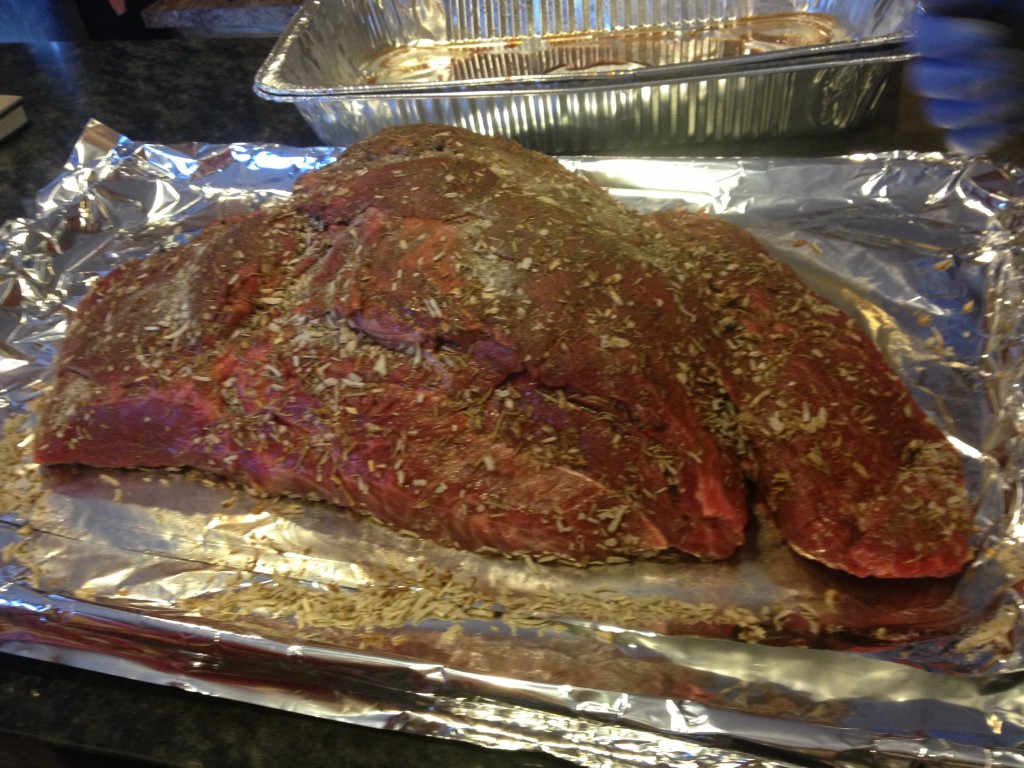 Once seasoned, I let it rest for another hour while I prepped the smoker. I used a Green Mountain Grill Jim Bowie for this cook, using a blend of Pecan, Hickory and Oak wood pellets and ran the smoker at 250 degrees. I moved the shoulder clod onto some foil and put the pan I was using underneath a rack in the smoker so I could catch all the drippings in case I wanted to use them for later…AND…to avoid a huge cleanup mess. I really didn't know what I was getting into here!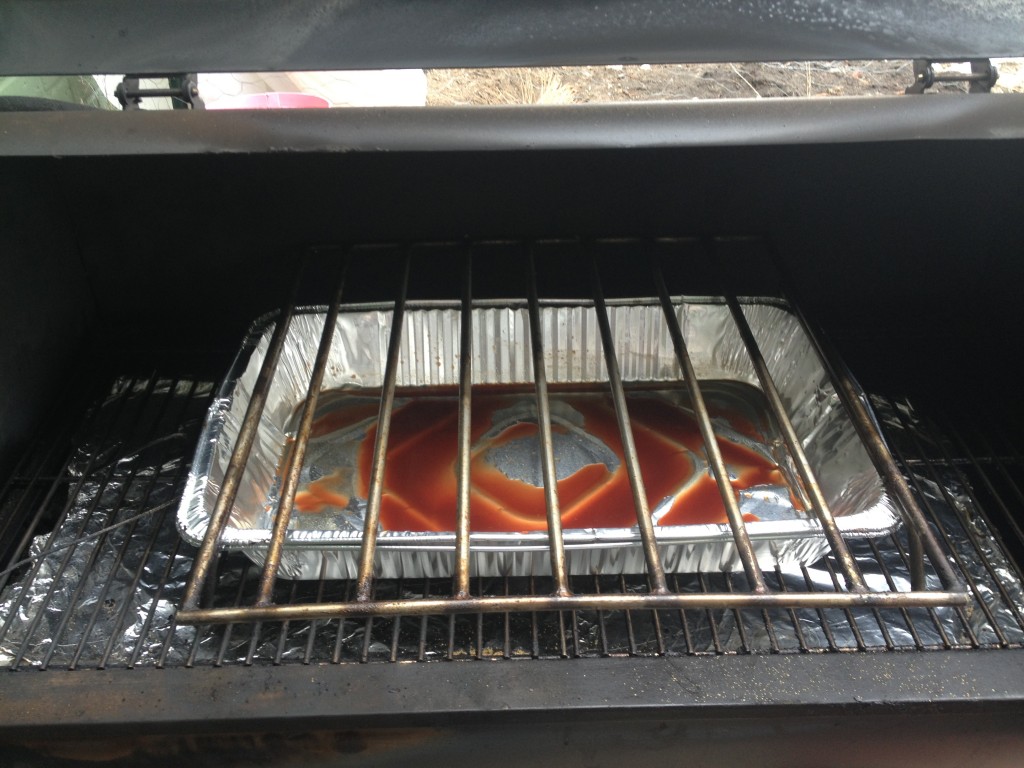 Then, put the meat on the rack:
I read some articles online that said this thing could take upwards of 22 hours to smoke (mine was 21lbs) , so I knew it would be a while before I checked on it. I inserted a food probe so I could monitor the temp and kept a close eye on it.
My goal was to pull this thing off at 160 degrees in the middle, so I had some medium-ish rare slices to deal with. The idea I had was to slice it like a wedding roast and serve it that way. Lots of different cuts, with lots of different flavors in one slice! You'll see below that I fell short of my target of having any medium rare slices. If I had to do it all over again, I'd pull the meat at 140 in the middle. Just like a prime rib, this way I'd have some medium rare in the middle and some more done slices on the ends. After this thing rested it cooked up pretty well in the center, but it was still awesome!
Here is a check at about the 8 hour mark. I'm glad I have that pan under there!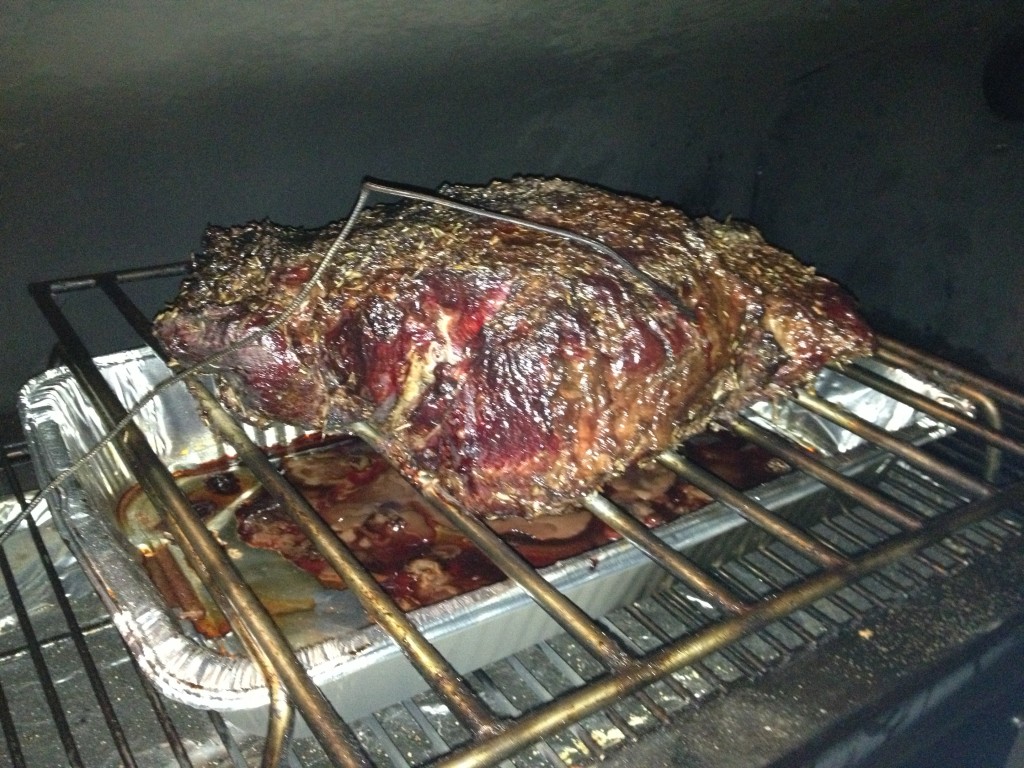 My clod hit 160 degrees in the center at the 16 hour mark after smoking it at 250 on the GMG, so I decided to pull it off. It looked like this when I pulled it. Great bark!!!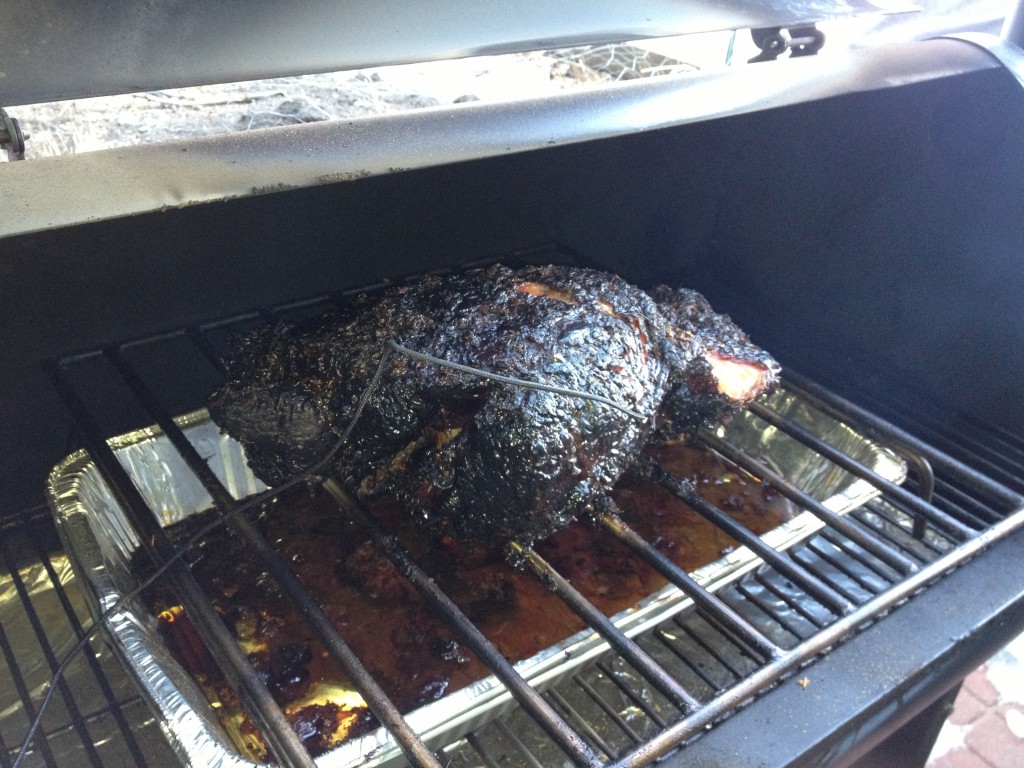 As I explained before, I decided I was going to slice it like a wedding roast. Here are a few pics of the clod resting and being sliced.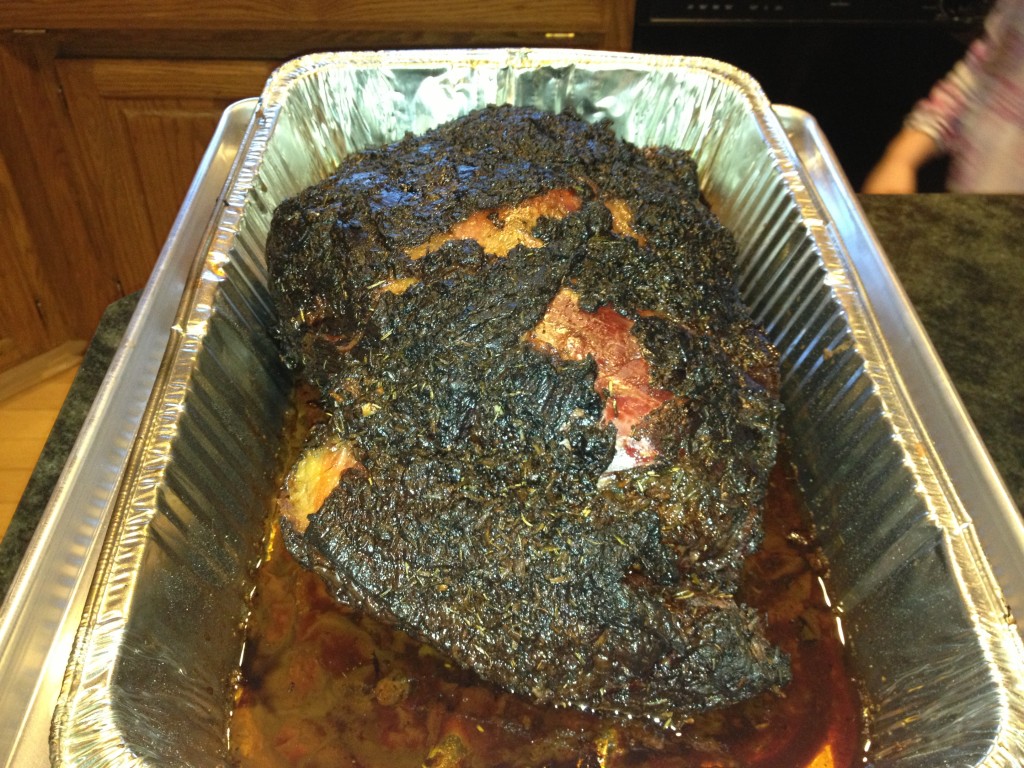 You can see in all the pics that the meat looks tender, moist and delicious! I can assure you that it was indeed delicious.
We did have some leftover and it wasn't too bad re-heated, but it was better right off the cooker. My guess is that if I had cooked it to 140 instead of 160, it would have been better reheated. It has more of a 'steak' like consistency than brisket, so this is definitely not a piece of meat you need to cook down like a brisket. There just isn't' enough fat in it.
Hope you take the plunge and give this a shot! As always, contact us if you have any questions about this post!
Enjoy!
Matt