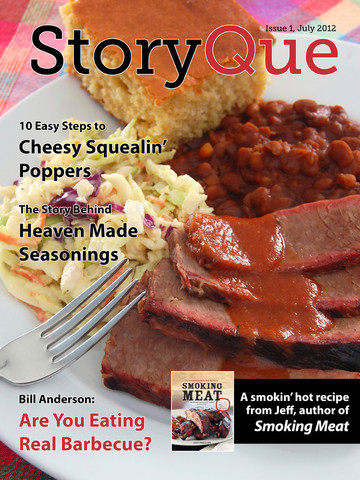 Recently launced, in July, was a brand new monthly BBQ?magazine named "StoryQue" by Lavern Gingerich, which is exclusively available?from the iPad Newsstand.? It is very well written and has TONS of valuable BBQ digs, for the backyarder and the competitor.
For all you iPad owners out there – please go check this out!?
BBQ Revolution and Hot Grill on Grill Action are pleased to announce that we will be regular contributors to the content of the magazine, starting with this first issue!? We couldn?t be?happier to bring you yet another inlet to the BBQ Revolution!
Recipes, tips, tricks, reviews and much more are all available in the mag.
Here is the official detail from the iTunes library:
Description:
In every segment of barbecue?whether backyarders, competitors, caterers, fund-raisers, whatever?there are stories to be told.
Stories of genuine success in winning, raising funds, building a sustainable business, enjoying quality time with family and friends, etc. This magazine is dedicated to telling the best success stories in the world of barbecue. If barbecue is your passion, you will love the stories, tips, and recipes in StoryQue. Try it out for 30 days free.
And here is the direct link to get it today! http://goo.gl/xF4gM
Here are a few additional screenshots from the mag: