[eshop_show_product id="1119″?panels="yes" form="yes"]
It's Finally Arrived!? The long awaited "Book on Competition BBQ"
by Hot Grill on Grill Action BBQ Team (2011 NE State Champions, 2011 "Jack" Invitation, 2011 American Royal Invitation) As seen on:

In this book, we are going to show you, step by step, everything we have learned over many years of competition, giving away every ?secret? we have.??Though they are included, we share far more than recipe secrets in this book.? You?ll learn how to find and enter a contest, what equipment?to bring, what recipes we often use and others you should try, what woods to use and enough information about them to make your own informed decisions, how the judging?process works, the timeline of a contest, how to compete for little to no money, our strategies to gain a competitive edge,?the power of taste?and most importantly?.how to have FUN!?
We have learned from some of the best and have taken that knowledge, combined it with our own trial and error, read about every book, perused probably every post online regarding competition BBQ and created a system that we strongly feel is the best way to compete at the highest level, throw one hell of a party and keep costs to a minimum.
?
One thing that?s for sure in the world of competitive BBQ is that the competition is fierce.? It?s friendly? but fierce.? Teams will spend countless hours and large quantities of cash perfecting their art in the quest to produce a winning product.? Every team has their ?secrets? and most keep them close to the vest.? While you?ll surely learn your own secrets and use some of ours that we?ve shared, we strongly believe there is one key element to producing at the highest level.? We call it Competitive Edge and provide a large amount of information around this.
?
Last year's?competition season started no differently than any other.? Everyone on the team bought their ingredients to make their first rub of the year in hopes to create the perfect combination of spices.? As always, everyone bought a few ?store bought? rubs to try as well.? We know, we know, some?folks believe?a true BBQ guy is supposed to make his own rub and not use store bought.? We?ve been buying and trying store bought rubs since we started and always will?-?especially pre-season.? You just never know what you might find.??We have discovered something incredible about?rubs……………
?
One of the most difficult things to do as a competition team is to absorb the cost.? A contest can cost you anywhere from $400 to $1000, depending on what is being turned in and how far you have to travel.? This can be quite a burden on you, your wallet and your family.? We have learned a few things along the way that have helped us ?break even? for the most part each year ? BEFORE ? any winnings.? This has given us an opportunity to compete more and stress less. Here are a few things we do that help eliminate?the costs for us……..
?
?
Your first contest:? Start Here.? It is completely catered to the true beginner or first time competitor.? The focus of this section is going to be solely on the 4 main categories you?ll see at a KCBS or similar contest.??It directs you right to the areas of the book you need for your first contest, eliminating the details you'll want later, making the book valuable many times over.??Simple step by step instructions.
?Please take a?minute to meet the guys from?Hot Grill on Grill Action?here!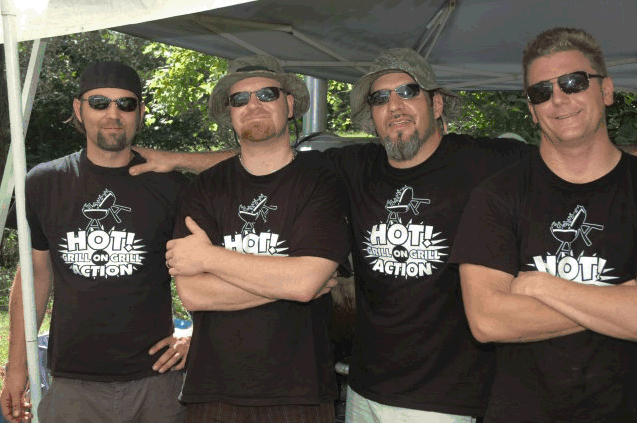 Enter the quanity desired and order the e-book PDF now!
This book is only available via download as an e-Book.? Once your order and payment?are processed, you will receive an email with?instructions for how to download the PDF.? If you don't receive the email – please let us know @: