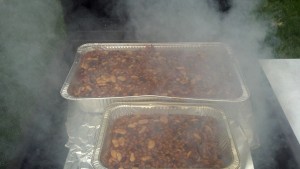 "Slap yo Mama, WOW" said the team next to us at the 2011 American Royal after indulging themselves in this BBQ Bean medly. The beans went on to finish in the top 10% and have been in our arsenal ever since. This recipe roots itself from my Great Aunt, who served these to many pleased patrons of her resturant. The recipe can be adapted easily to make the best BBQ beans you will ever have. This is a very simple recipe that will steal the show wherever you take them! Here we go!
Ingredient list:
– 1 large can Bush's Chili Beans 111 oz (sams club)
– 1 large can Allen's Baked beans 111 oz (sams club)
– 3 cans Butter Beans
– 2 cans dark red kidney beans
– 2 cans black beans
– Whatever other beans you want to add, Lima beans work great but were unavailable for this cook.
– 1 cup packed brown sugar
– 1 cup BBQ Sauce (sweet baby rays used here)
– 1/2 cup seasoning (Rufus Teague Hot used here)
– 2 lbs meat of your choice. We used leftover BBQ ribs from our competitions. Brisket, pulled pork also work fantastic. If you don't have those, Hamburger works great.
– 1/4 cup minced onion.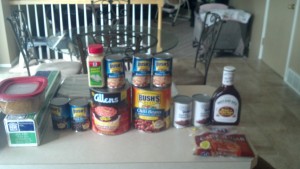 Directions:
– Drain the Kidney beans, Butter Beans, and Black Beans and any other beans you add. Do NOT drain the Baked Beans or the Chili Beans.
– Add all the above ingrients into a large foil pan.
– Mix well
Cooking instructions:
– Set smoker to 250 degrees.
– Add smoke wood to smoker. Hickory /Pecan/Oak/Apple all work well.
– Add beans to the smoker
– Cook for 3 hours, mixing the beans every 45 minutes to an hour.
– ENJOY!!