It was shortly after we had installed our Rock?s Barbecue Stoker system to the Lil? Chub and we couldn?t have been any more proud that our pit ran even better than before. On initial tests and practice cooks the pit ran flawlessly. To no fault of the Stoker, this time was different.
Each year prior to the beginning of the competition season we would typically cook for friends and family to make a few extra bucks. We would provide them with some vacuum packaged meats in trade for a donation for the team. It became known to the team as the ?Big Cook.? This year was our 4th year in a row of the ?Big Cook? and as you can imagine, each year more and more friends were asking if they could make a donation to the team. Obviously, this meant more meat needed to be cooked.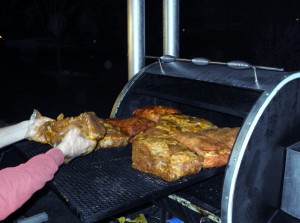 At the local Sam?s club we had requested 2 cases of pork shoulders and 2 cases of brisket from Joe the butcher. As we were walking to the checkout line we realized we may not have enough room on the pit for all the meats we bought. We knew that if it wouldn?t fit we could fire up a WSM or two as needed for some extra cook space but who wants to run multiple pits?
When it came time to put the meat on the pit we quickly realized we weren?t going to have enough room. We had placed 9 pork shoulders on the middle rack alone and saw that we weren?t going to have enough room for the briskets. So, we rearranged the middle shelf and managed to make it accommodate 14 of the 16 pork butts. We threw the other two pork butts on the bottom rack and proceeded to load the pit with the briskets. At this point we knew that we should fire up a WSM (or two) to make some extra room. Unfortunately we decided otherwise. Instead, we added a rib rack that a friend had built for us and used it as a shelf to gain us a bit of space.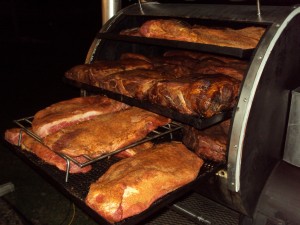 Just so you know, if you load up a smoker, or at least the Lil' Chub with 280lbs of cold meat, it?s going to run like CRAP! Now most of us know that you will see a dip in your temp gauge when you put cold cuts of meat on the pit. This was no different unless you consider the pit temp "dipped" for over 7 hours until it started to climb back up. OK, not that big of a deal. We knew the pit would recover eventually and begin purring along in its typical fashion. Unfortunately, this never happened.
We knew this cook was going to take longer than usual. What we didn?t know is that we had restricted the airflow through the pit so much that we would never see our pit make it to the desired temperature. Our pit NEVER once made 239 degrees, let alone the 250 degrees we were shooting for. You want to talk about the cook that lasted forever, this was it??.I couldn?t tell you exactly how long it took, but I can tell you we stopped keeping track after the 24 hour mark. For the entire cycle from prep to final clean up, I?m guessing 27 hours. What a deal! But hey, we got these sweet pics!