If you're from the Midwest, you may have had the pleasure of sinking your teeth into a featherbone or two. If you have no idea what a featherbone is, it could be due to them being called riblets in your region. If you still aren?t sure what they are, go here your answer: featherbone . If cooked properly, they can an absolute delight to consume. They are relatively inexpensive and have all the flavor of full size rib if done right. The following recipe will show you how to smoke them to perfection, in a reasonable time. This recipe will accomplish the cook in 3.5 hours cooking at 300 degrees.? The result will be fall off the bone crowd pleasing rib.? In fact, you?ll probably be anointed the local featherbone king.
Ingredients list:
-????????? 1 box of featherbones (usually sold in 10# boxes)
-????????? 1 stick of salted butter
-????????? Rib rub/seasoning (your choice)
-????????? Your favorite BBQ sauce
Featherbones are also called riblets Rig: For this cook, I will use the Weber Kettle Grill. You?ll need to use the charcoal separator to covert the kettle into a smoker.
Step 1:?? Trim off the excess fat on the feather bone.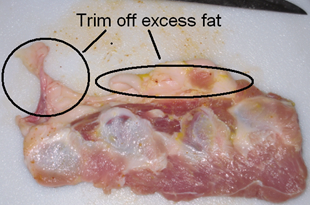 Step 2: season the feather bones with your favorite rib rub.
Step 3: Place the featherbones on the smoker. It doesn?t matter which side is up or not. Make sure the featherbones are not directly above the heat source. Cook at 300 degrees for 1.5 hours.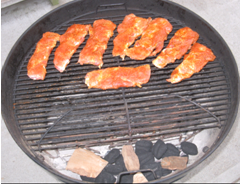 Step 4: Remove the featherbones from the smoker and place on a large sheet of heavy duty foil. I you have a lot, you can stack them on top of each other. Melt 1 stick of butter and pour them over the featherbones. Also add some more seasoning on the ribs at this point. Wrap the bones in foil and place back on the smoker.
Step 5:? Cook in foil for 1.5 hours at 300 degrees.
Step 6: Remove the featherbones from smoker. Place the featherbones in a foil pan and add your bbq sauce to them. Cover the pan with foil and give it a good shake to distribute the bbq sauce.
Step 7: Place the covered foil pan back on the smoker. Cook in foil pan for ? hour at 300 degrees.
Step 8: Remove from pan and enjoy your featherbones!