Well folks, I wanted to take a trip down memory lane and explain the beginnings of our lives in the competition BBQ world.? If you?ve paid attention to some of the other posts there?s some history there related to how we started out and whom we owe credit to for us getting started, but no info on the actual event itself.
1st Annual Tri-Cities BBQ Contest – September 23, 2005
Here it is, the first BBQ contest.? Who would have guessed it would be the start of Hot Grill on Grill Action.? After digging up the pictures and looking at the date it?s hard to believe that what seemed like just yesterday was over 6 years ago.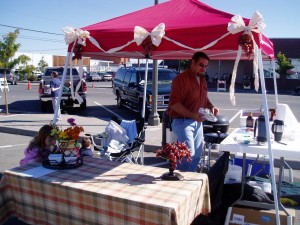 My wife Tasha had helped me get set up that morning for what was a going to be a one day event.? She later returned for awards and to help clean up, but from raw meat to turn-ins it was all me.? The categories were ribs, chicken and Tri-Tip.? I felt pretty confident going into this event even though the Tri-Tip category was new to me.? I had spent several weeks getting my Tri-Tip right.? I had purchased several nice big Tri-Tip roasts from the local butcher and mixed up a few dry rub options and ate well for a few weekends in a row (I love Tri-Tip).? Getting the roasts done the way I wanted them was the real trick that I had to figure out.? There?s a fine line between just right and overdone and with such a small relatively lean piece of meat that window is pretty small.? I knew what I was going to use on my spare ribs and had my chicken process just where I wanted it.? Regardless, I practiced both a couple of times to make sure.
What I do remember is how stressed out I was to be going at this alone.? Why was this so stressful?? It?s supposed to be fun right?? Afterall, it was a georgeous 65 degree day and I was finally competing, something that I'd wanted to do for several years.? One can never be too prepared for a contest.
I had spent the whole night prior to the event loading up everything I thought I would need.? One of the things I find humorous about looking at these pictures is the lack of equipment and gear that I had.? It?s funny to think that this simple one day event had me stressed out so much.? I can recall pacing around in my garage and going through my totes numerous times making sure I wasn?t forgetting anything.? As most of us know, you?re going to forget something almost every time going into a contest.
After arrival on site it didn?t take long to figure out that this was clearly a first annual event.? Now don?t get me wrong, I was just as unprepared as the contest reps for this event but I had anticipated working with a group of reps that could provide a bit of guidance.? This certainly added to the stress levels especially since the only person present that knew what to do was the county health inspector which for whatever reason was brought in to assist.? Don?t get me wrong, food safety is surely important but this guy was a HUGE pain in the pork shoulder!
My set up was simple, two tables an 8? x 8? canopy an 18? WSM and a Weber Kettle.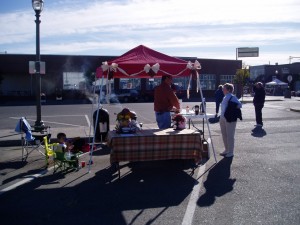 I?had prepared 12 boneless chicken thighs, 2 racks of ribs and 2 Tri-Tip Roasts.? The kettle and WSM both ran flawlessly.? I cooked the ribs on the WSM and had also started the Tri-Tip there to get a bit of smoke on it.? I had cooked the chicken on the kettle.? After the chicken was done I moved the Tri-Tip over to the kettle to get a sear on the outside.
Did I mention that the meat was provided?? Upon entering the contest I was excited to not have to?pick up the meat from the store.? Unfortunately when I picked up my meat from the reps?I was handed partially frozen chicken thighs, two racks of Baby Back ribs with one rack having broken bones in it and two really small Tri-Tip Roasts.? In an effort to thaw out my chicken I left it sitting out on the table in its package which sparked the interest of the health inspector.? This guy was comical.? I simply explained that they were being left out to thaw a bit before cooking them which he wasn?t having.? At this point I decided to request new chicken and figured I?d go for some new ribs as well hoping to get some that didn?t have any broken bones.? Having received neither I continued along my process of thawing the chicken which really chaffed the health inspector.? He began to pick on me by asking where my hot water was and threatened that if I didn?t have hot water in the next 30 minutes I was going to be asked to leave the contest.? I ignored this request after having taken a quick glance around to see if anyone else had hot water on site which only one?team did.? Also, I had no way to heat water?? I surely wasn't giving up my cooking space to heat water, I was there to compete.? When the inspector came back 30 minutes later to no hot water he was furious.? Just as I was going to point out the fact that I wasn?t the only one without hot water the neighboring team had overheard the previous conversations and had put a pot of water on his firebox for ?us to share?.? Ahh, the camaraderie?of BBQ cooks runs deep!? This had satisfied this point with the inspector but the chicken was still a problem.? I threw the chicken in the cooler to satisfy him until he left then took it back out and placed in my tote with my BBQ supplies.
After the Chicken and Rib categories were complete I thought I was going to ?own? this little event.? Everything had gone as planned with these categories and were done to my liking.? Then came the Tri-Tip.? The roasts that they had provided were much smaller than those that I had practiced with.? I remember throwing one of them that was a bit bigger on 30 minutes earlier than the smaller of the two.? This attempt to get them done properly gained me nothing.? I should have put them both on at the same time in hopes that one would be done perfectly.? Both came out over cooked and I knew that this was not my day for Tri-Tip.? This just goes back to practice and in this case the lack thereof.? You can never practice too much for these things.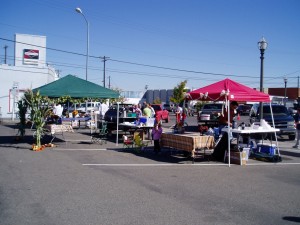 There were 11 teams consisting of?competitors from the local casinos, the police, fire department and radio personalities.? Overall, I came in 7th with the local DJ coming in first followed by one of the casino teams.? This was a great event and a memory that will last forever.? Most importantly to me, it was the birth of who we are and what we?represent today.? Hot Grill on Grill Action!!