I absolutely love Tamales….and have for quite some time now been on a quest to create Mexi-Q with all my leftover BBQ! Brisket Chili, Chicken Enchilladas and Tacos, Pork Enchilladas and more.
Here is a recipe I made with some smoked chicken that turned out awesome! It was my first crack at homemade tamales….and though it was mildly time consuming – it was well worth it.
Here are the ingredients:
6 cups Corn Mesa Mix
6 cups Chicken or Beef Broth (match with meat selection; chicken broth for pork)
1/2 cup corn oil
2 tsp salt
1 tsp baking powder
2 – 3 lbs of smoked chicken, brisket or pork! (you could also use 2 store bought cooked roaster chickens for simplicity sake – a local store in Omaha, SuperSaver, sells them smoked)
2 cans salsa; I personally use homemade from the garden – but a good mexican salsa works well. Tomatoes, cilantro and jalepeno would be all you need.
1 bag corn husks
Instructions
Soak the corn husks in warm water until soft.
Blend with an electric mixer Mesa corn mix for tamales, corn oil, salt, baking powder and the chicken broth to obtain a consistent mixture.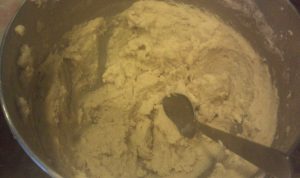 Shred the meat selection (this is chicken) and marinate in the salsa for 60 minutes in the fridge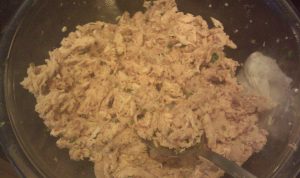 Spread masa evenly over corn husks, and spread a spoonful of marinated chicken on top of the masa.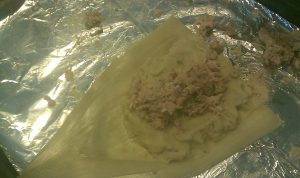 Fold the sides of the corn husk to center over the masa so that they overlap to make along package.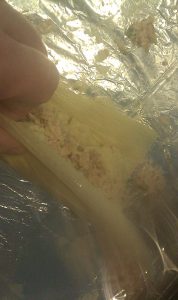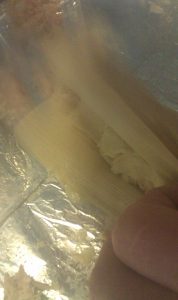 Fold the empty part of the husk under so that it rest against the side of the tamale with a seam.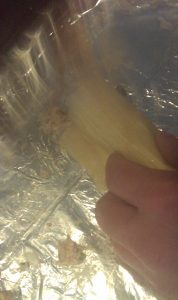 Place the tamales in a steamer (or in my case a steamer pot, which I'll cover with another pot as a lid!) and cook tamales for 45-60 minutes.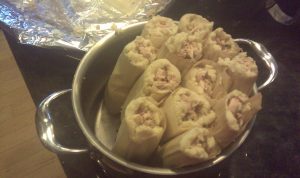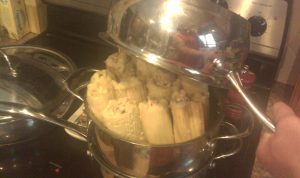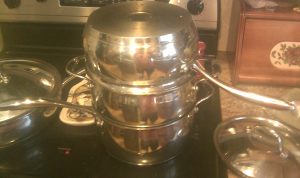 Check every 20 minutes.The tamales are cooked when they separate easily from the corn husk. It may take longer than I specify depending on how often you open the lid and the type of steamer!
Let them cool quite a bit before eating – they get better with time and can be reheated in the microwave perfectly!
I like to top them off with a Mexican Chile Gravy recipe I came up with. I highly recommend it!
Ingredients
1 TBSP Butter (you can add more of this up to 1/4 cup for even more rich flavor, but I like to keep the calories out)
4 TBSP flour
1/2 teaspoon fresh ground black pepper
1/2 teaspoon salt
1 1/2 teaspoons powdered garlic
2 teaspoons ground cumin
1/2 teaspoon dried Mexican oregano
2 tablespoons chili powder
2 cups chicken broth
Directions
Take about 1/4 cup of the chicken broth and whisk the flour into it, slowly. Creating a smooth paste. (Hint: This trick works well for any gravy and avoids the clumps flour can create!)
Heat all the other ingredients to a mild boil and whisk in the flour paste you made above.
Whisk constantly until the gravy is the thickness you desire, over low to medium heat – about 10 minutes.
You can add or subtract the flour to your liking – totally up to you!
Use this gravy on top of your tamales and enjoy!
Hope you enjoy!
Alternate Gravy I've been trying:
4  tablespoons corn oil

12TBSP Kerry Gold Pure Irish Cream Butter

1/2 medium onion, finely chopped

4  large garlic cloves minced or chopped

1  tablespoon Bacon Bas

I/2 cup good  Chili Powder

1 teaspoon cumin

1/4 teaspoon oregano

4  cups beef stock

1  tablespoon masa